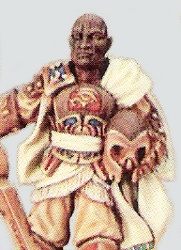 Race : Illumian
Gender : Male
Age : 17
Profession : ???
Homeland : Abbor-Alz Mountains
I was born to the Eclipse Cabal – Finley, and led a sheltered life in the mountains surrounding the Duchy of Urnst. For my first fifteen years of life things were normal for any Illumian of the cabal; keep your existence secret and protect the knowledge of the Word Made Flesh. Then the evil that had swept across the world intruded on our secret stronghold. Even though we fought well the warriors were cut down in the overwhelming onslaught of the forces of Iuz. However, unknown to even the leaders of Iuz's army, the secret of the Word Made Flesh was spirited away to new places of safe keeping.
All of this was a secret to me. All I knew was that I was to flee and start a new life among the humans. When I had gained enough experience of the outside world and enough power to be of aid I would be contacted if anyone survived. It was not long after that I encountered an individual who used spell and steel to defeat a group of soldiers of Iuz's armies. While he kept his nature hidden, he spoke to me about the abilities he displayed.
The man was Talon Nightfeather an elvish duskblade. We agreed to travel together for a time; I did the cooking and menial tasks while Talon offered me protection. Upon reaching the next town Talon was called away and arranged for me to make my way to Keoland. There, at least for the time being, I have found a safe haven and perhaps can begin to acquire the knowledge and skills I'll need to be of service and aid in the defense of the Word Made Flesh.
"Dedication and preparation will overcome all obstacles."